N2CKH/R 6 meter Repeater System Configuration
---
The N2CKH/R 53.430 MHz (-1Mhz) repeater consists of the following components:
We are currently up and running in Phase I of the system plan.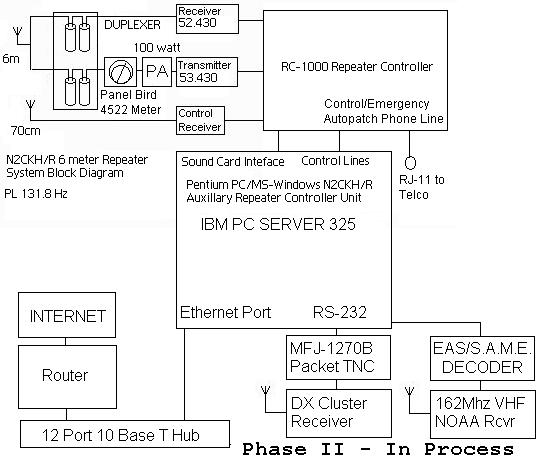 Phase II is currently being configured and tested.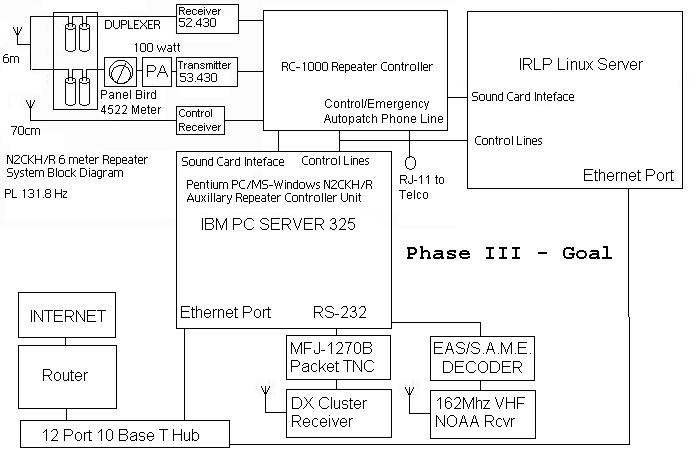 Phase III is planned for completion by late 2001 or early 2002.
---
In General:
This repeater system is based on a GE Master II Series "M" commercial mobile radio. The GE Master II family of transceivers is a fairly rugged radio from the early 80's that was retired from service. It has been re-crystalled, retuned, and appropriately modified for use as an amateur repeater. The system uses a set of Db Products DB4030 30-54Mhz 4 Cavity duplexers factory tuned for the frequency pair and a Micro Computer Concepts RC-1000 repeater controller.
Phase I of system integration was completed whent he system went on-the-air as N2CKH/R in late April of 2001. Coordination was granted on July 26th, 2001.
Phase II of the system integration with interface the RC-1000 dedicated controller with a rack mounted IBM PC Server 325 266Mhz Pentium Pro having 64MB RAM, two 4.5GB hard drives, CD-ROM, ethernet port with a digital/analog I/O control line interfaced and Soundblaster cards running MS-Windows and custom software written by N2CKH for additional control and signaling capabilities, DX-Cluster voice spots and NOAA EAS/S.A.M.E. severe weather alerting. Additional peripheral equipments will also be implemented.
Phase III of the system integration will swap out the RC-1000 controller for a Link Systems controller and add a 2nd PC Server 325, a 200Mhz unit one 64Mb RAM and one 4.5GB drive and CD-ROM, ethernet port, this one will be running Red Hat Linux v6.2 to act as the node controller for an Internet Repeater Linking Project (IRLP) interface.
---
The Details:
The repeater's input frequency is 52.430 MHz; its output is 53.430 MHz, and a PL tone of 131.8 Hz is used to activate the repeater as needed due to band conditions. A 131.8 Hz tone will usually be present on the repeater's output at all times. Those without PL who have DTMF capabilities can enter "*320" which will temporarily take the repeater out of PL until 20 seconds of inactivity has elapsed.
---
N2CKH/R 6 meter Repeater System Technical Specifications
---
Receiver Specfications
| | |
| --- | --- |
| Sensitivity: | 0.35 microvolts for 12 dB sinad |
| Selectivity: | front end +/- 1 MHz, IF 12 kHz |
| Audio level and impedance: | 8 Ohm spkr & 600 Ohm 1 V P- |
| Inter modulation: | -80 dB |
| Squelch sensitivity: | 0.2 microvolt open |
Transmitter Specifications
| | |
| --- | --- |
| Output power: | 100 watts nominal. |
| Spurious & harmonic emission: | 85 dBc minimum |
| Emission type: | 16F3 |
| Duty Cycle: | continuous duty at rated output power |
| Maximum deviation: | +/- 5 kHz |
General Specfications
| | |
| --- | --- |
| Frequency stability: | +/- 5 PPM at -5 to +55C (+23 to +131F) |
| Size: | 13.5" w x 12.1" d x 4.1" h |
| Power requirements: | 13.8 VDC @ 20 amp max. |
| Panel: | Squelch & Volume, indicators for power, COS, tone & PTT, speaker out, receiver and transmitter antennas, phone line. |
---
Click here for Exciter/Amplifier details
Click here for Receiver details
Click here for System Duplexer/Antenna/Power Supply details
Click here for photo's and details on the PC Servers
Click here for future enhancement details
---
For information on my commercial amateur radio products please click here to send e-mail or visit the main website.
---
Entire contents Copyright © 1999-2001 by Stephen B. Hajducek, N2CKH. All Rights Reserved Worldwide.