---
WELCOME TO THE MARS-ALE FORUM REFERENCE FILES
Since October 2005 you are visitor number

---
MARS-ALE for two-way communications is limited to MARS members only. As a MARS member if you are not already a member of the MARS-ALE Forum provide your MARS and Amateur callsign, City and State and subscribe at http://groups.yahoo.com/group/MARS-ALE
Alternately you can just send and e-mail request and await an e-mail response questionaire.
---
If your interest is in using MARS-ALE for guard channel applications subscribe to that support forum by clicking here
---
If you are interested in two-way Amateur Radio ALE and are not a MARS member then PC-ALE software and documentation can be found at http://www.n2ckh.com/PC_ALE_FORUM/
---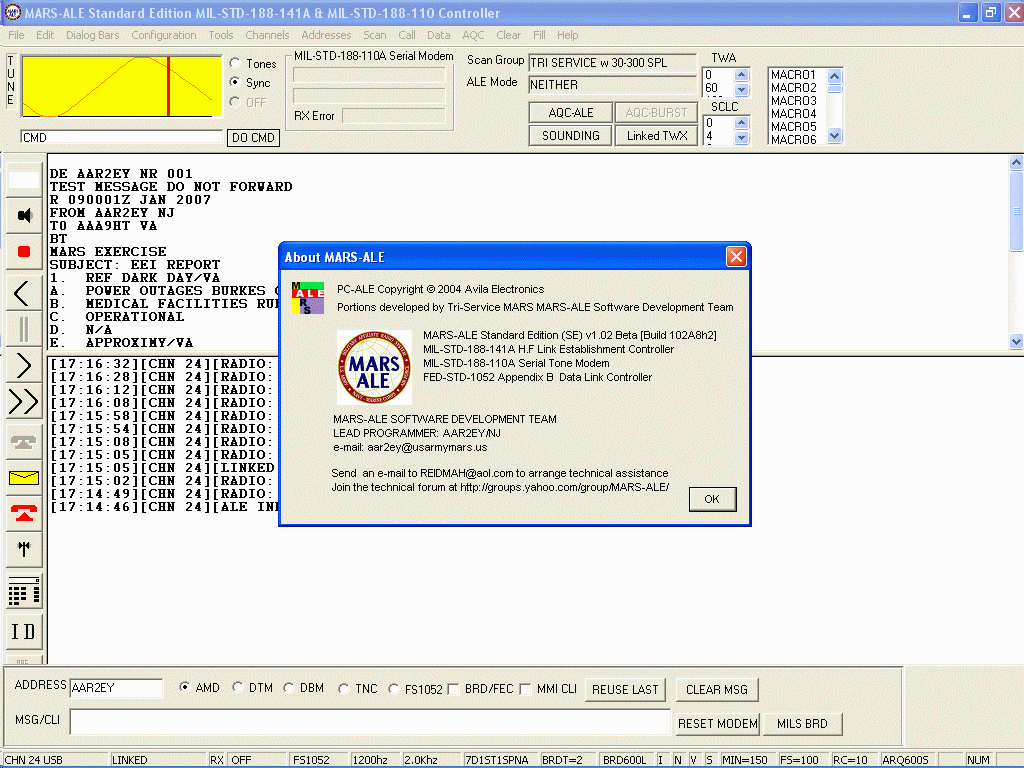 LAST CHANGES MADE TO THIS PAGE ON 7-9-10
This site shall contain documents and links to documents on the subject of Automatic Link Establishment (ALE) and supporting protocols to assist MARS members in better understanding the subject matter of ALE and application of the the MARS-ALE tool.
In addition the last release of MARS-ALE software shall be posted here for download, beta versions are released to the support forum files section. A license is required to enable use of MARS-ALE for two way communications.
MARS-ALE LICENSE FILE APPROVALS:
See details at the support forum by clicking here
---
For the latest MARS-ALE release full install, documentation and other information click here
For radio equipment hardware modifications in support of ALE operations click here
---
For Automatic Link Establishment reference and associated materials click here
---
DISCLAIMER: The appearance of hyperlinks does not constitute endorsement by Air Force MARS, Army MARS or Navy-Marine Corp MARS of this web site or links to web sites or the information, products or services contained therein. MARS does not exercise any editorial control over the information you may find at these locations. Links are provided consistent with the stated purpose of this web site.

---