My Cushcraft A4S in the Oak Tree.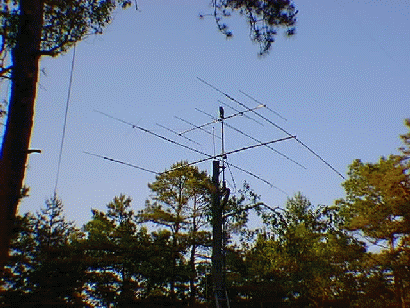 An antenna farm, you bet, it even requires sunshine and water to stay up!
What did you say, it requires sunshine and water ?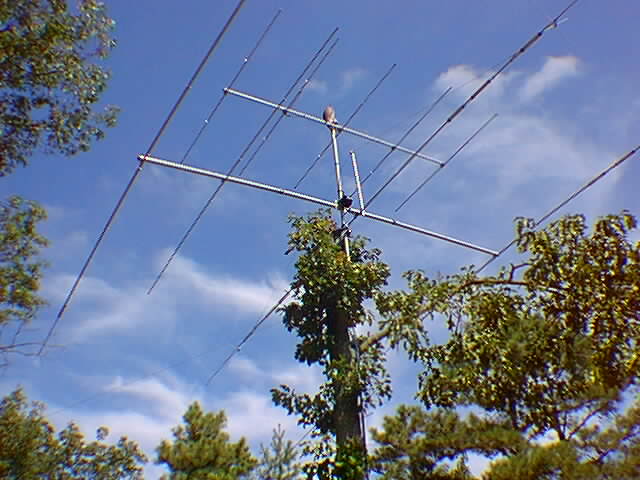 I do not always go with the crowd and put up antennas as most people usually do ! My Cuscraft A4S with 40m add-on kit and the A50-S above it, is mounted in a living oak tree, this project was completed on June 5, 2000.
Do you want to see my A4S antenna system turn, select one of the two short MPEG videos below to watach the system rotated from due South to West in the Hi-Res and due North in the Lo-Res MPEG's.
I have been growing wire and aluminum for over 20 years now in two different locations since being licensed in 1979. I have erected a tower and I have rode out north easters and hurricances. So I am satisfied with my engineering and implementation to date. I have never gotten a building permit yet either and do not have any plans to ever do so to erect an antenna system on my own property for non-commercial use where if it falls it will stay within my property. Don't get me wrong, I do not plan to install anything illegal, I just REFUSE to get involved with local goverment agencies when it comes to installing an amateur antenna system. The tower that I had when I lived in Sayreville predated and regulations, I liked being grandfathered on that one.
This oak is was about 50 feet tall, if you look carefully af the picture you can see my good friend and tree climber Bill, KC2CNB . However only about 25 feet has been kept as the mounting platform for the A4S. A IIX RM-2 pole mount with 3/8 inch stainless steel lagbolts are used with a Hy-Gain Tailtwister rotor and a 2 inch OD, 3/8 wall seamless T6061 aluminum mast. The top mounting plate of the RM-2 has a simple sleave, I considered using a thrust bearing, however I ended up creating a rubber boot grease pocket around the sleave instead as the tailtwister was more than enough rotor. I used rubber plumbing joining with stainless steel hose clamps.
Pictured below is the IIX RM-2 pole mount with the Tailtwister rotor and mast just sitting on the ground up against a tree. What is not seen in this photo is the rubber boot that I created around the mast above and below the top mounting plate that is filled with lithium grease.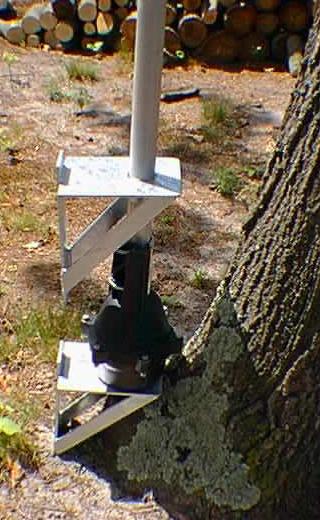 ---
For more information please click here to send e-mail.
.
---
Entire contents Copyright © 1999-2001 by Stephen B. Hajducek, N2CKH. All Rights Reserved Worldwide.